West Virginia's Best Fly Fishing
Elk River Inn & Cabins is a fully licensed, professional Fly Fishing WV outfitter providing you with high quality services. Our fly fishing guides are natural teachers very much in tune with the environment, and they love what they do!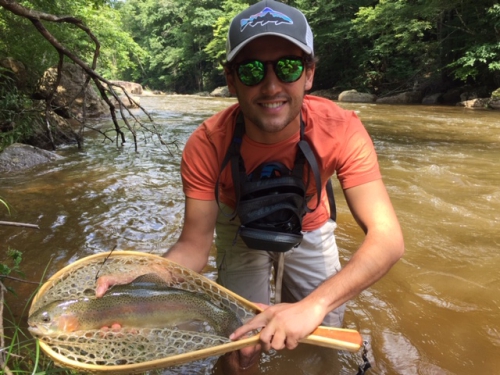 Fly fishing is rapidly becoming the fishing style of choice for many anglers, and as the "Birthplace of Rivers," Pocahontas County WV offers some of the best fly fishing on the east coast.
Fly fishing has many different facets. The stream just outside our door is the Old Field Fork, one of the headwaters of the Elk River. But West Virginia Fly Fishing on the Greenbrier, Williams, and Cranberry River is a memorable experience as well. Each river requires a different style and different flies and you'll come to respect and enjoy the challenge each river presents. For fishing near Elkins WV, we are located in the beautiful Monongahela National Forest and are the best outfitter and West Virginia Fishing school in the region.
"Some go to church and think about fishing, others go fishing and think about God." ~ Tony Blake
Guided Fishing Trips
Join one of our guides on your choice of a full day (8-hour) "Wade & Fish" trip. The full day trip includes lunch (special diets can be accommodated). Contact us with your questions, or for a quote for your larger group.
A West Virginia fishing license with trout stamp is required. You may obtain a license online and we encourage you to do so before you arrive. www.wvfish.gov.
Wade & Fish
$349 full day (+$149 each add'l angler)
2 people per guide max
Waders, Boots & Rod
$35/angler on guided trips, $50/day if not guided.
Just Need Equipment?
If you prefer to fish on your own and just need the essential gear, we offer rods for $25/day and waders & boots for $35/day. Contact us with any questions.
Elk River Weekend Fly Fishing School
An excellent option for the beginning angler who is very serious about increasing their skill level.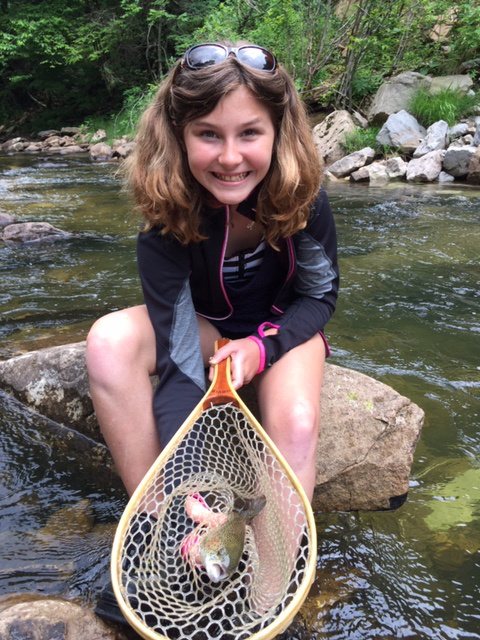 Two full days of guided fishing. This can be Friday, Saturday or Saturday, Sunday.
After reviewing your skills, you will check your equipment and then begin casting and working one on one with your guide/instructor. Casting techniques covered include: roll cast, roll cast pickup, pick up and lay down, false casting and shooting line. We will then move toward the stream and discuss reading the water and how it affects your fly line. As the evening hatch begins, we'll observe before casting to rising fish. After a great afternoon on the river, a relaxing meal in the dining room awaits you. Saturday's plans will be discussed over dinner.
Saturday starts with coffee on the deck overlooking the Elk River headwaters and the rolling Pleasant Valley. The day begins with a how-to on reading water, current and fish approach options. As we fish the river, the focus will be on sight casting, nymphs near the bottom and making wading techniques safe and efficient. The afternoon will be spent identifying basic stream and river insects. As the late afternoon hatch begins, you'll be ready for action.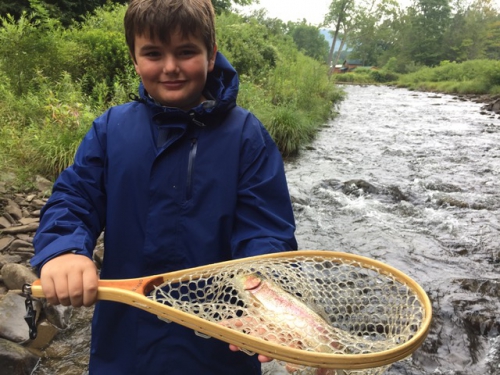 Rise on Sunday, eat a hearty breakfast and then we depart again for the river. You will receive more guided fishing and instruction until your departure mid-day. This package can be modified due to your arrival, diet or travel plans. We are flexible and want your West Virginia Fly Fishing trip to be the very best. Contact us with any questions.
$998 — includes lunch, flies, guiding, instruction and lodging in one of our cabins.
Elk River Weekend Fly Fishing Package
A great gift for the advanced beginner, upper level intermediate or advanced angler who wants to have the very best guided fishing experience that is offered in the Mountain State.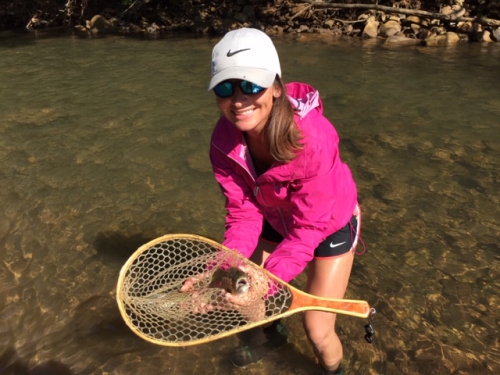 You will be fishing on the very best streams that the area has to offer. Our guides will go out of their way to keep you away from crowded streams. In some cases, you won't see another angler! If you are interested in West Virginia Trout Fishing for wild Browns, Rainbows or Brooks, this the trip for you. We can stay on naturally producing streams and rivers if that's your preference. This package can start Thursday or Friday p.m. and includes lunches for two full days of guided fishing, flies (usually tied by your guide) and Elk River cabin lodging. Our flexible staff will go out of their way make you feel at home. Contact us with any questions.
$998-weekends
$898 — mid week
Wild Brook Trout Trips
Elk River guide service offers a unique brookie trip that will challenge even the hardiest angler. We'll stalk the wild brooks that have been here since the Ice Age 20,000 years ago.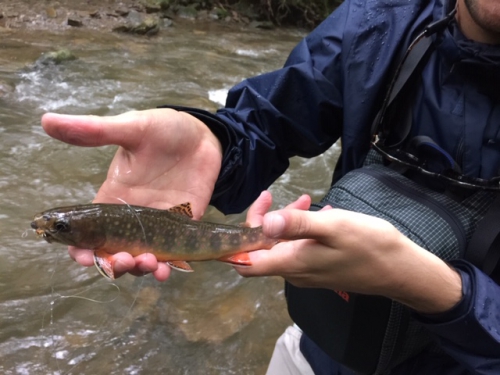 Brooks are strong & resilient and have survived the cutting of the virgin forest in the late 1890's, the introduction of the German Brown trout and Western Rainbows, and the coal mining that took place on a small level here in the 1940s. The best West Virginia Trout Fishing brookie steams are found in remote mountain valleys and steep drainages that require skill & stamina to find and fish successfully. Our county boasts the best brookie fisheries that the Mid Atlantic region has to offer. This is possible due to the large amount of WV state forest and federally owned Monongahela National forest land (64% of county acreage) which can't be logged and developed like other areas in the region. If you want breathtaking, big mountain scenery, this is the trip for you. Contact us with any questions.

$949 — weekend
$899 — mid week