Cross Country Skiing & Snowshoeing
Although we are small, we have everything necessary for a memorable Nordic skiing experience, including snow most of the time!
Ski Report February 28: 10" of fresh snow in the last two days! we are skiing on some of the trails on the property, Mine road and Highland Scenic Highway.
Higher elevations a bit more, maybe drifted. Snowshoeing is also a good option!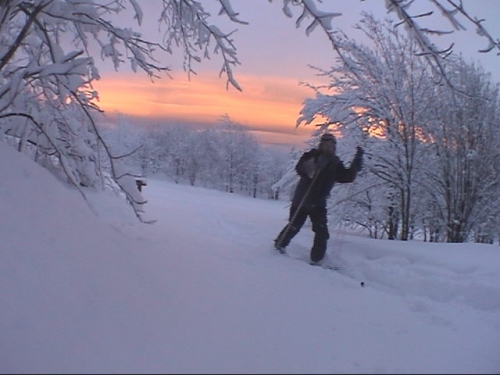 Elk River offers cross country ski equipment rentals for adults and children, including skis, snowshoes, and pull sleds. We rent waxless skis which are easy to use in varying snow conditions. Open 9am-4:30pm.
Equipment Rates
Nordic Ski Package: $20/day including skis, boots and poles
Junior Package (12 & under): $14/day
Snowshoes: $20/day ($25/day with boots)
Child Sled (Puck): $20/day
Area Use Fee: $5
Cross Country Ski Lessons
Elk River offers lessons and rentals for cross country skiing. Lessons are available by advance reservation only. Rental equipment is additional.
1 person: $80.00
2 people: $40.00/person
3+ people: $30.00/person
Repairs and Service
We can tune and wax skis, replace bindings, and fix poles.
Trails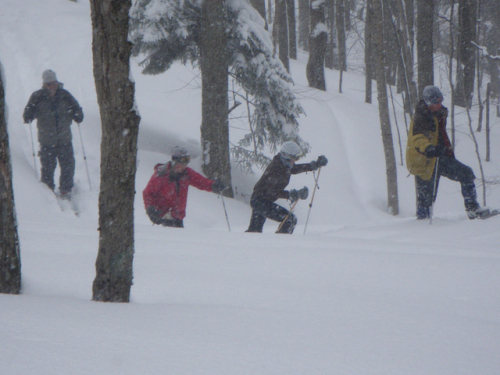 Five kilometers of trails are adjacent to Elk River Inn & Cabins and border the national forest. We pack the trails around the center with a snowmobile when possible, but no high-tech grooming is available. An additional 25 kilometers of trails are located off the Highland Scenic Highway (WV-150), which is not plowed in winter. We suggest stopping by Elk River to get current trail conditions and a map of the area. There is no cell service available on trails. Snowshoeing trails start at the Inn and the Scenic Highway. Trails range in elevation from 2730' to 4750'. Average snowfall is 150-200" annually. Cross country skiing and snowshoeing are dependent upon natural snowfall. Please contact us for current conditions.
Ski Report February 8: although we received almost 4" of fresh snow, we are still not skiing on the property because of the rain for two days before the snow!
Higher elevations a bit more, but blown off and drifted. Snowshoeing is a good option!